Performance introduction of cement spraying machine
Views:4 Author:Site Editor Publish Time: 2020-08-31 Origin:Site
The performance characteristics of the cement mortar sprayer: dry-mix spraying. After all the ingredients of the mortar are accurately measured in the production workshop and fully mixed evenly, they can be used at the construction site by adding water to the determined water-cement ratio. At the same time, by adding different chemical admixtures, the properties of mortar products can be improved and optimized, such as plasticity, accelerated and delayed solidification, consistency, solubility, foamability, lubricity, strength, corrosion resistance, colorfastness, sealing and crack resistance Impermeability, etc., can basically meet the requirements of new wall materials.
The company produces mortar spraying machines, which are suitable for plastering surfaces of internal and external walls, floors, roofs, beams and columns of buildings, as well as mechanized construction of special mortars. It fully meets the requirements of mechanized mortar construction. This mortar spray master has stable mortar ratio, high construction efficiency, low investment cost, and strong mobility. It can stir and pump dry-mixed mortar and wet-mixed mortar on site. The appearance of the spray master P6 truly realized the mechanized construction of mortar. The product is composed of a spray master, a mixing station, and a screening system, which realizes a complete set of mechanized operations from raw material screening, on-site mixing, and pumping to floors and walls.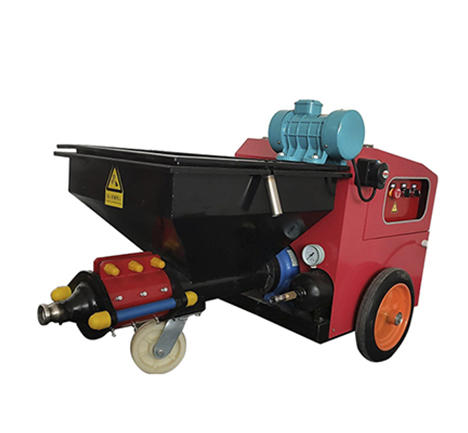 Inspection and maintenance before operation:
1. Electrical equipment: including the inspection of the motor, power supply and transmission lines, electric control box, and each switch should be in the closed state.

2. Lubricating oil: Check whether the oil in the gear box of the air compressor and the main engine is sufficient.
3. Check for debris and slag accumulation in the hopper.
4. Whether the shotcrete hose, nozzle and air pipe are unblocked.
Routine inspection before operation:

1 Jog the motor to check the rotation direction (the main motor is clockwise, the air compressor is counterclockwise);
2 Whether the air compressor, air pressure, air volume, and air gun are normal, and the pressure is between 0.4 and 0.6.
3 Check the indication of the instrument, especially whether the voltage meets the design requirements (380v), check the transmission line, the distance of the wire diameter and the connection of the joints, etc.
4 The air pressure switch air flow setting is caused by the loosening of the air pressure switch parts during transportation, and the pressure spring should be readjusted.